Behind Greek and Polish table – lunch differences
In this article you will learn …
What are the basic differences between Polish and Greek dinner?
How culture and location affects the meals served?
Where do Poles and Greeks like to eat their dinners?
Some interesting facts about Polish and Greek dinners.
Nowadays, due to globalization, cultural boundaries are blurring. No one will be surprised by sushi prepared in Denmark by a Czech. Access to recipes is increasingly easy, as is access to ingredients. However, regardless of whether we have the recipe and ingredients, the appearance, taste or execution will differ from those prepared in a given culture. Also the food culture is different in Poland and Greece. Our main focus today are dinners.
Seafood vs meat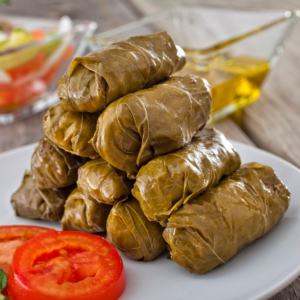 Both Greece and Poland are characterized by hearty dinners to satisfy nutritional needs. However, the main difference is that the Greek diet is dominated by seafood and fish. You can find there Souvlaki, Moussaka, Dolmades or Taramosalata, among others. On the other hand in Poland dominates meat (with vegetables, of course).
Meat
It's good to paying attention to meat. No wonder, it is present in every culture, but still it may be served differently in some countries. In Greece meat is just a flavoring, and the main role in meals are played by vegetables, fruits and pasta. The most popular meat is mutton (which is eaten on Easter Sunday) beef and pork.
In Poland the situation is different. Due to Poland's past and history, the dishes or meals are different. Fish as a main dinner dish can be found in the northern part of the country like Gdańsk or Sopot. However, due to its location, seafood is not found there. In other regions of Poland, meat dominates over natural products of nature. The most popular meat in Poland is poultry, other also known meats are pork and beef.
Soups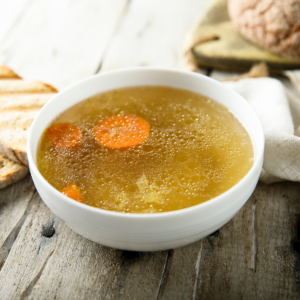 Soups are an interesting element. In Polish culture dinner can be served into two parts: 1st and 2nd course. The first course is the soup. The soup most known and loved by Polish is rosół (broth) – interestingly enough, it contains chicken meat! It can also be served separately, depending on your preferences.  There are also other soups made with broth such as tomato soup.
If you were to ask for soup in Greece you can be considered sick because soups in Greece are served on festive occasions and for people with weak immunity.
Interesting facts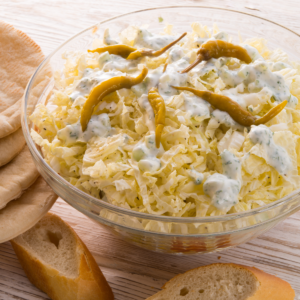 Polish eat at home, while Greeks tend to eat out – in restaurants, pubs, etc., because where else would you better talk about politics, achievements, or everyday matters? Many restaurants are adapted to such occasions in order to make the time spent in their places more pleasant for the customers. Apart from the differences, Polish and Greek cuisine have some relation with each other. There are dishes which have different names, but their preparation and appearance are similar. An example of such a dish is Greek dolmades, and in Poland, stuffed cabbage rolls.In Poland many dishes are borrowed from other cultures, however their appearance and individual elements differ. An excellent example is gyros, which is served as a salad in Poland and as a pita in Greece.
Also, share your experiences with Greek and Polish cuisine by leaving a comment below the post!